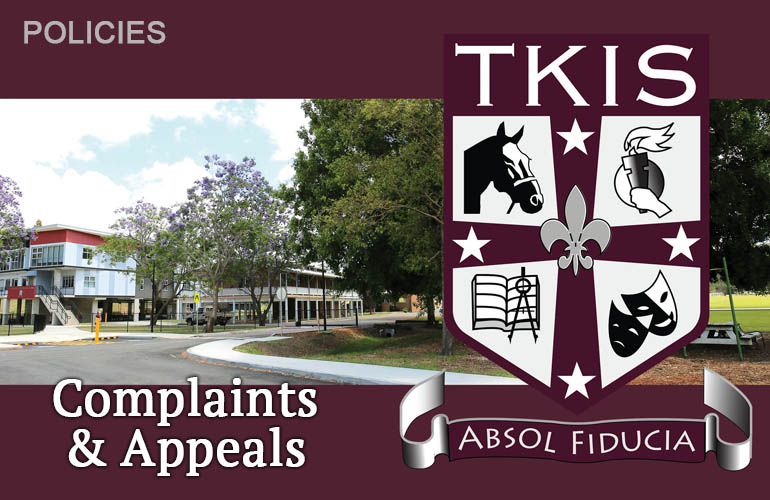 (Including the school's CRICOS policies):
Being the best that we can be...
We're seeking a 100% approval rating, but if you feel we've gotten something wrong, then a complaint can be made to the school regarding any aspect of its operations including our CRICOS (overseas students) operations, the conduct of the school's management, its trainers, assessors or other school staff, teachers or students of the school and any third parties providing services on behalf of the school, the school's CRICOS courses, fees, charges, refunds or any other policies.
The school will ensure that the principles of natural justice and procedural fairness are adopted at every stage of the complaints and appeals process. All formal complaints and appeals will be heard and decided on within sixty (60) calendar days of receiving the written complaint or appeal. If the school considers more than 60 calendar days are required to process and finalise the complaint or appeal, the complainant or appellant will be informed of the reasons in writing and will be regularly updated on the progress of the matter.
Definition: An appeal (for the purpose of this policy) is: a response to a decision made by the school about a previously lodged formal complaint in which you 'appeal that decision' and request that the school reconsider their decision to the original complaint, (usually adding new evidence, etc).
If the processes fail to resolve the complaint or appeal, a review by an independent party will be provided if requested.
Complaints or appeals should be directed to the principal (as CEO of the school and the school's CRICOS registered courses), in writing care of the school address or via email to principal@tkis.qld.edu.au or admin@tkis.qld.edu.au
FORMAL COMPLAINTS FORM | Most matters can be resolved by simply speaking to our helpful staff, but if you wish to lodge a formal complaint please use THIS FORM. Please be aware that the school is a Mandatory Reporter and are required to report to the relevant authorities, any information we receive that might suggest that a child or young person is or could be at risk. You are welcome to make an anonymous complaint, but please understand, the person or persons about whom you are complaining have a right to natural justice and procedural fairness and unless doing so would place a child or young person at risk, they (the person or persons you are complaining about) will have a right to be informed of your complaint and an opportunity to respond to your accusations. Though the school seeks to resolve complaints within sixty (60) days, matters that require Board review can take several months to process and conclude.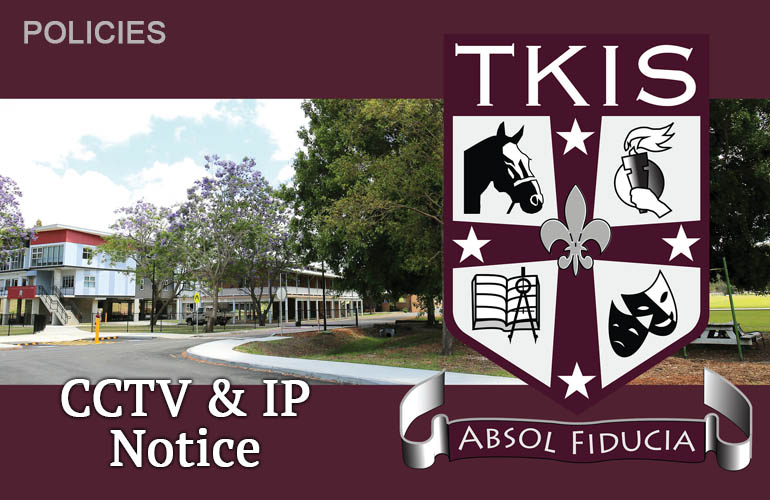 TKIS buildings and grounds are protected and supported by Closed Circuit Television (CCTV). The school is committed to ensuring that ALL personal information collected (including data recorded by the cameras) is dealt with in accordance with the Information Privacy Principles contained in the Information Privacy Act 2009 and in accordance with the school's 'CCTV Policy Framework', a copy of which is available from www.tkis.qld.edu.au
The school's CCTV system provides 24-hour video surveillance. The purpose of the system is to help provide a safe and secure learning and working environment as well as to help protect the school's assets and to provide additional technology-based professional development and lesson delivery mechanisms. Video cameras are NEVER PLACED in areas where a person might have a reasonable expectation to privacy (e.g. cameras will never be placed in change rooms, toilet facilities, dorm rooms or anywhere similar.)
CCTV video footage is not used to monitor staff performance. However, it could be used to investigate allegations of serious misconduct by staff, students or visitors. The school ensures that any footage used for educational purposes has first obtained the relevant clearances and permissions of any persons identifiable in the used footage. NOTE: Parents give written consent within the school's Application Process for images/reproductions of their children, to be used for educational or promotional purposes by the school.
Controlled access to the CCTV footage is strictly maintained. Recordings made are stored for a minimum of thirty (30) days in a secure, locked area and the school takes reasonable steps to protect from loss, misuse, unauthorised disclosure or destruction ALL the personal information it collects. The school has technology and operational security in place in order to keep everyone's personal information safe in accordance with relevant legislation including the Privacy Amendment (Notifiable Data Breaches) Act 2017.
School Principal v 1.6 October 06 2018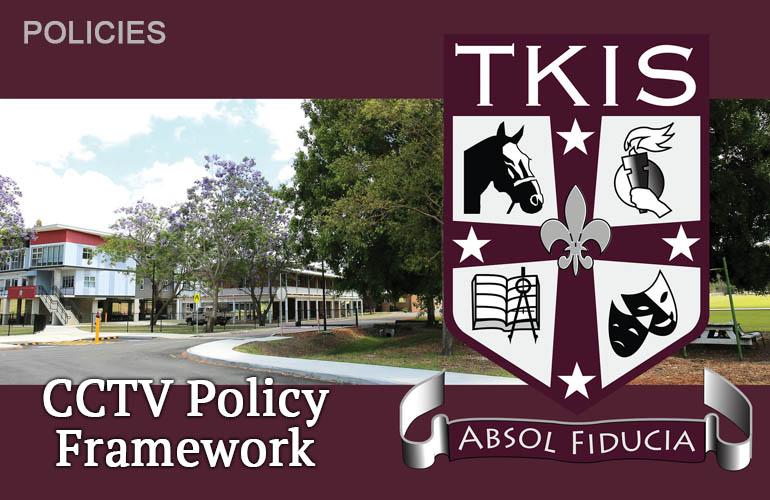 Excerpt: ...Child protection legislation among other things, requires schools to maximise their vigilance, supervision levels and transparency of reporting on all aspects of child welfare.
Perhaps surprisingly however, very little of Australia's and Queensland's privacy and surveillance legislation has anything to do with schools using CCTV recordings of public areas (like school grounds and classrooms). As long as schools use and control the data they record in strict accordance with the APP (Australian Privacy Principles, which are more concerned about making sure that data is not published or exploited in a way that undermines any person's legal rights to and expectations of privacy and it is not used by law enforcement entities unless duly sworn warrants are issued) then schools are permitted (indeed protected) by Australian and state law to have the right to make such recordings including photographic, audio and text for educational, WH&S, child safety and general security purposes.
Millions of videos are recorded on smart phones and published to social media and video sites daily. The prevalent laws addressing the use of such technologies on school grounds or within classrooms are the rules and policies set by the schools themselves who will normally prohibit such use (i.e. schools often prohibit staff or students from recording data on their own private devices (phones, tablets, etc.,) while on school grounds, because of the school's lack of control over the potential misuse of such recordings and the school's subsequent risk of prosecution because of that misuse). In other words, the school is far more concerned about people's legal rights to privacy being violated through video/audio recordings that it has no control over (e.g. footage and images shot by people on their personal phones and uploaded instantly to social media sites), than data that it responsibly controls in strict compliance with the Australian Privacy Principles. ...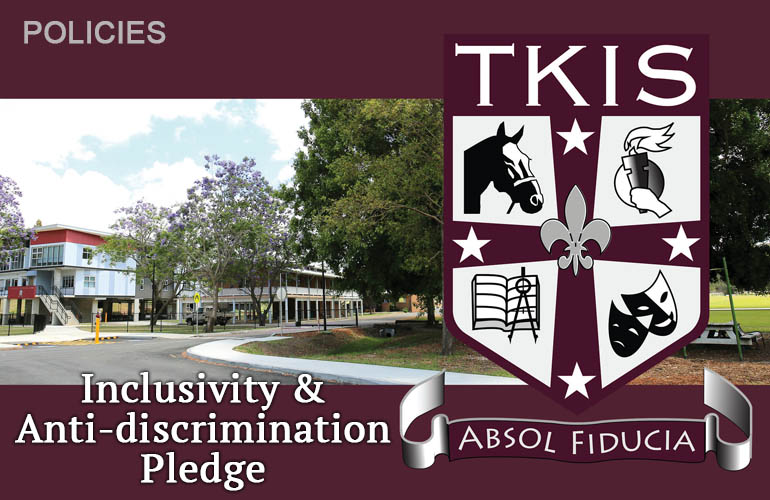 Our Pledge: All students who meet The Kooralbyn International School's high standards of dress, behaviour and work ethic, will be offered a quality education, free from classroom disruption, harassment or discrimination.
Meeting the school's High Standards…
Uniform Standards: TKIS students agree to wear their correct school uniform exactly as defined in the student handbook for the gender that appears on their Birth Certificate.
Behaviour Standards: TKIS students agree to abide by all school rules including those relating to the school's no touching policy, not being disruptive in classrooms, always being respectful to others, always handing in mobile phones, always following instructions, etc.
Work Ethic Standards: TKIS students agree to…
• arrive at school having completed all homework and assignment tasks to the best of their ability
• be well prepared for their lessons and
• commit fully to being 'the best that they can be'.